Holiday lodge with an awesome view
Perched above the fabulous North Devon coast in a sensitive Area of Natural Beauty (AONB) it is a real gem. In summary originally a camping and caravan site, innovations have replaced the traditional static caravans with two shepherd huts. The latest project was to replace the final static caravan with a quality, eco-build holiday lodge. Another key point is that the site improvement relocated the new lodge to a more appropriate location, with less visual impact. In essence as North Devon architects, with expertise in westcountry self-catering holiday development, we know how to approach this sensitive planning application.
The lodge is single storey; a lightweight timber structure. The mono-pitched roof is the same angle as the topography, sitting well in the landscape. This, combined with a green roof covering of native plants will blend the building with the natural surroundings. We improved the two bedrooms, the open plan kitchen / living / dining area, bathroom and utility / plant room. A covered terraced creates a fabulous area for holiday makers to enjoy the wonderful views and summer sunsets. The overhanging roof reduces any glare / reflective sun light.
The external materials include timber cladding and green roof mono pitched roof. The holiday lodge has sliding timber wall panels and shutters to avoid light spill.
In this case our pre-application work guided our approach in this sensitive area. The proposed eco holiday lodge was design minimises adverse visual impact in a sensitive area.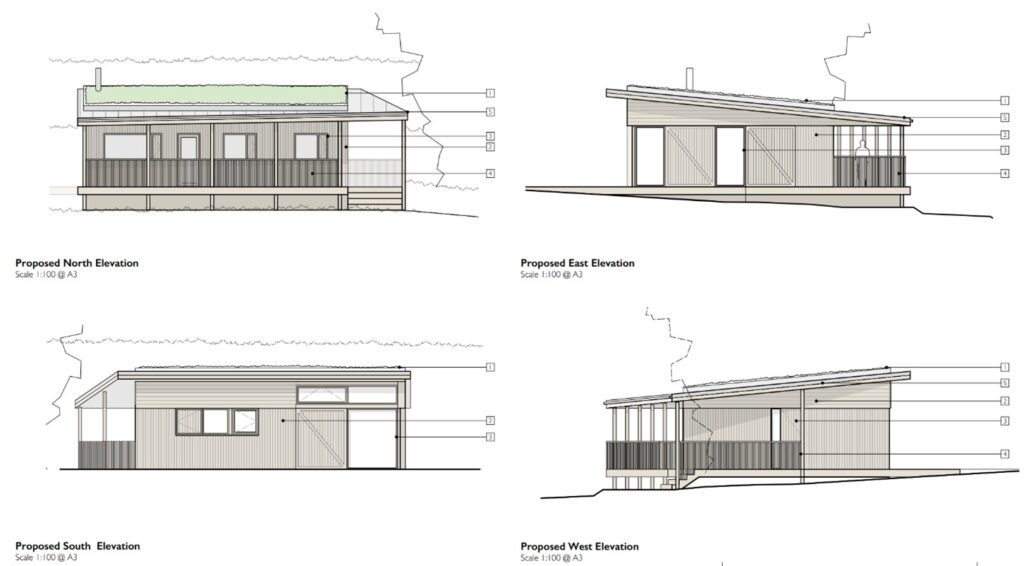 Self catering investment in the westcountry
In conclusion, architect Perry Mears said "Unquestionably in recent years we are seeing significant investment in self-catering holiday accommodation throughout the westcountry. In particular standards are being raised, attracting discerning holiday makers. The development will increase occupation rates throughout the year, and the right investment in standards and design can improve returns. In short it's important to realise that the approach and providing the right details is essential for success."
Peregrine Mears Architects