New hotel for expanding marina
An architect's contribution is multi-faceted, evolving with a project. Understanding a client's need and vision sounds easy, but often not quite as straightforward as it might appear. Working in different parts of the UK allows us to bring a totally fresh approach, with an objective perceptive. Business owners live and breathe their buildings, sometimes leading to somewhat of a limited vision; being too close, so welcoming a fresh vision and perspective, as we offered here for a new hotel project 150 miles from our office
Seeing the growth of the local leisure and tourism economy, an astute family created a 200 plus birth inland marina, to serve an increasing market for boat owners, local residents and tourists. Their enterprise and investment enabled them to build a business, far beyond their initial vision. A bar and restaurant followed, diversifying the business, developing new income streams. The setting has proved especially popular as a wedding venue, with up to 90 weddings each year, interspersed with other events and conferences. With space, the next step beckoned.
We considered the next stage; add accommodation, for wedding guests and conference attendees to stay. Without an initial strategic masterplan, there is a danger that a development can look fragmented and disjointed. Our challenge was to design a solution, solving the immediate challenge with an eye to the future. Just outside a town, with good transport links the site's appeal is enhanced being on the canal and surrounded by open countryside on 3 sides, so any new development needed to respond to that and the rural context.
Inspired by our visit, we looked at the position and relationship of the existing buildings to each other and to the marina, we could quickly see an opportunity to build a new hotel, that physically connects the restaurant to the wedding venue. This phase would be a strategic, to tie everything together. Design was key, relating to the scale of the existing buildings and the context.
New hotel design
Our approach was to assimilate this with precedents from both industrial, canal side architectural heritage and traditional agricultural building forms, in a subtle contemporary way, so careful detailing of brickwork, openings and fenestration. These challenges were set against the clear need for project viability, requiring the careful fusion of shrewd, practical solutions.
Our consideration of form included the use of gables, rhythm and height considerations has meant that the bedrooms are imaginative and attractive. The proposed simple palette of external materials, predominantly multifaced red brick, compliments the existing development. The new hotel reflects the existing with slate tiles for the pitched roofs and red-blue multi brick referencing the existing materials.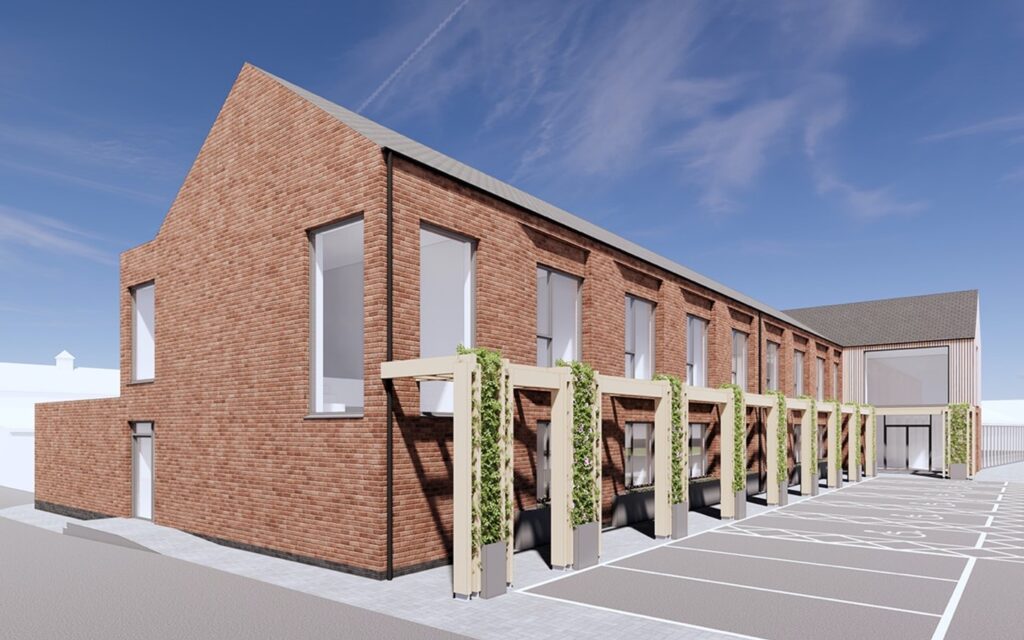 Brickwork in the local context
Glazing is used to connect with the wedding venue, with large window openings reflecting the internal disposition of the bedrooms; the brickwork delicately angled back to the windows creating depth and interest.
The result is a design for a new hotel that has two wings, one running north to south and the other east to west. Each wing has bedrooms facing the views on two floors. At the junction of these is the guest reception including a double height lobby. A resident's lounge and back of house facilities complement the 26 proposed contemporary bedrooms.
Peregrine Mears Architects
Tourism & leisure architects