Large Devon new build taking shape
Every stage in development of a new home is exciting; this excitement we share with our clients from start to finish. The initial hand drawn concept sketches inspire key client discussions, the outcomes of which give the direction for the whole project. The use of latest technology with CAD and CGI visuals starts to bring this to life. This individual home is designed to meet the latest Passivhaus standard; every detail considered for future low energy efficiency.
However, it is the build stage is always a highlight – where the theory becomes reality. This large, fabulous North Devon home is taking shape.
Planning permission for North Devon new build
We successfully gained planning permission for this as a replacement dwelling, taking a different approach by demonstrating that it would not have any greater visual impact than the existing house. Although it is substantially larger and in a different position, the architectural concept was deemed more fitting than the brick and render 1950's house it replaces.
Drone's eye view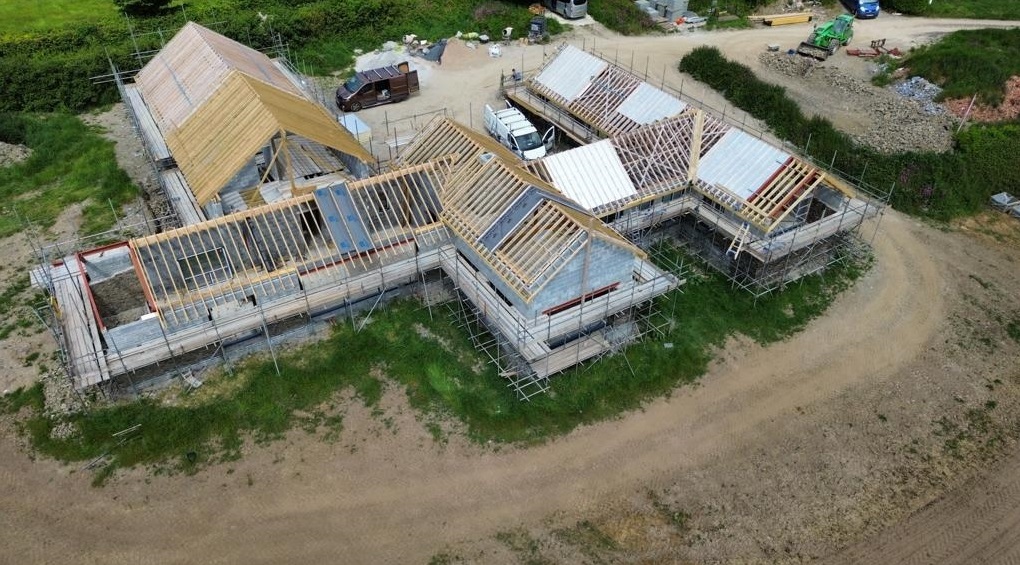 Drone photos show the layout and arrangement of the various parts of the house taking shape. The original concept was based on a group of farm buildings around a courtyard, so rectilinear forms with pitched roofs, running perpendicular to each other.
The new house is single storey, (with the exception of a small section over the garage which is room in the roof construction), so long and low, sitting against an established hedge line and group of trees. By using traditional materials, stone, timber and slate, the design sits more comfortably in the setting and has a more restrained appearance.
The Devon new build home will have an entrance courtyard on the north side, with triple car garage and a formal landscaped approach. The principal entrance is midway along the main east to west wing giving access to what will be a fabulous and very spacious interior, with a large open plan kitchen, dining and family room on the western end. This will have a sunny terrace to the south and an inset terrace on the west, which the fully glazed gable end and vaulted ceiling will take full advantage of.
Behind the main living space is a study, utility and service areas, linking to the garages., above which is a gym with views across the countryside.
The east end of the building provides sleeping accommodation. A master bedroom suite, again with vaulted ceilings and recessed glazed gable looking south, and four further bedrooms.
Importance of client's brief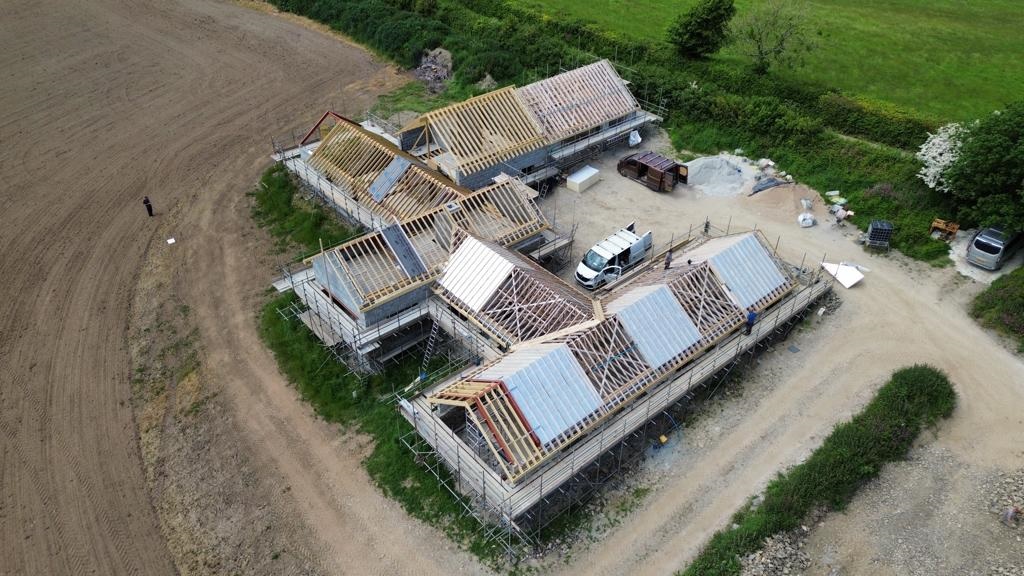 Our clients particular desire has been accommodated between the main living space and the sleeping wing; a generous "entertainment barn", a large room with high ceilings and feature stone fireplace – a specific response to the brief for a space for large family gatherings. This links to the south facing terrace to allow inside and outside spaces to flow.
We think this home will have a timeless feel and will be a special and very comfortable, bespoke family home. We love designing fine, bespoke Devon new build homes our cleints can be proud of.