"Inspire me" was the brief! We did! (Including fish)!
Recommended as the go-to architect design team for something different, from the very start we knew that this project was going to be exciting! Our first conversation was something like "I own a large 1980's house in Hampshire. It's in the right location, on a great plot. I'm looking to make the most of what I have. I'd love a new entertainment wing and a different style throughout. You're the architect, create something special!"
We have! Very special! The client loves our concept and designs. The planners do too, having just approved planning permission, allowing the designs to now become a reality.
Our fact-finding visits and time spent with our client helped us really understand his needs, hopes and yes, dreams. What are his real priorities? Styles? Standards? Budgets? Thorough research and planning is always a good investment.
Embracing his energy and clear brief to be imaginative and creative, our design team needed no encouragement! Having captured the key elements, our initial concept discussions were buzzing. The client is young, with enterprise, energy and enthusiasm. We wanted to capture and reflect this in his home. Ideas that might normally be considered unrealistic were encouraged! The team responded but where did we end up?
Our redesign of the layout opens everything up, maximising the generous space, it is now so much more efficient; the contemporary feel is totally "now", a theme carried throughout. The connection between the inside and south-facing garden creates a totally different impression. The specification and detail leaves nothing to chance.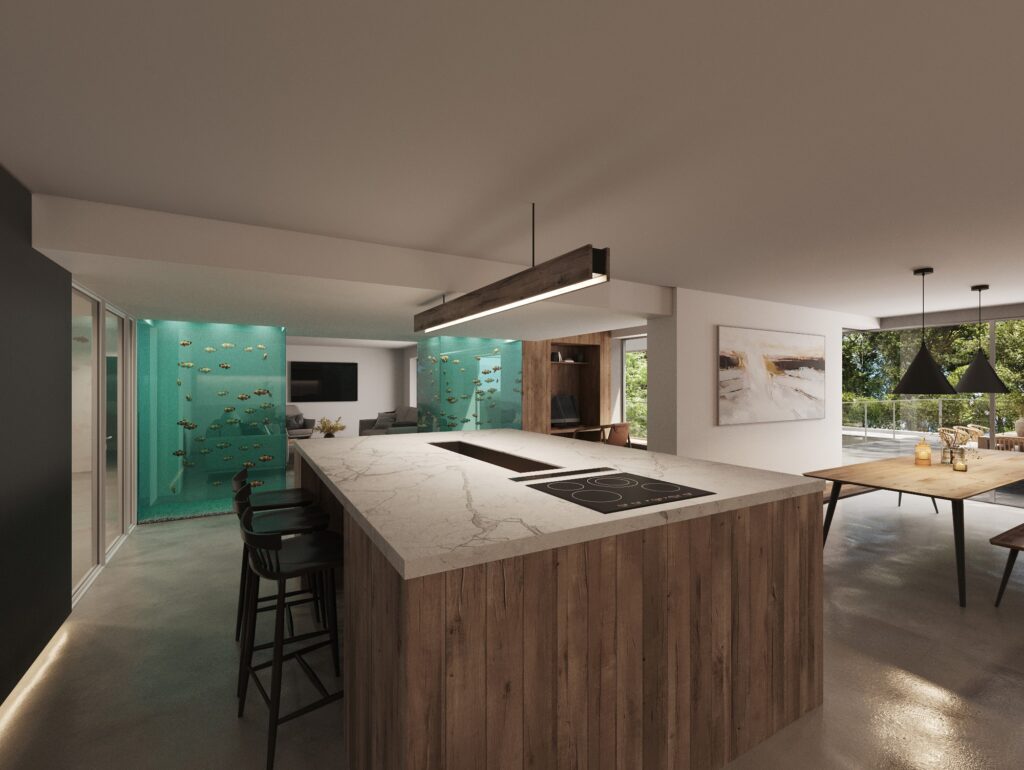 The existing basement cinema will have a large underground extension for a fabulous swimming pool – he'll be able to swim through the feature waterfall! A sauna, spa, gym all add to the luxury, as does the sunken courtyard, with fire and feature sliding glass roof.
There are more surprises, a walk-through aquarium. Yes, you read that right; a floor to ceiling, walk-though aquarium, divides the fabulous kitchen and dining room – the impact on both will be breath-taking.
Our client wanted a new house. He's going to have one, a very special one and he won't have to move! Every project is different and unique. However, there is one constant. The approach, dedication and enthusiasm from the design team at Peregrine Mears Architects is the same for everyone. A genuine passion for design.
Peregrine Mears Architects.
01271 377776