Personal edge in architectural technology
With ChatGBT and AI featuring prominently in the headlines, there have been interesting discussions about technology in many roles. The passionate discourse around architects has encompassed every perspective and viewpoint. Devon architects, Peregrine Mears Architects gives an insight into their approach, subtly blending the latest technology with a skillful personal touch, which can add a little je ne sais quio; so hard to achieve in any other way.
Devon architects' approach
Director Perry Mears is proud of his company's approach. "Our philosophy is to get it right, doing whatever is needed to achieve the best for our client and project. Our highly qualified and experienced team uses the latest sophisticated design software. However, there are still occasions when we use an architectural tool which has become less favoured in the 21 century – a pencil! Perry added "Basic, yes. Old fashioned, yes. However, in the right, skilful hand it still has an incredibly valuable role to play. In this age of computerisation it's nice to see that skills of hand drawing and illustration are alive and valued. Hand-drawn images have a softness, through a human touch, sometimes missing with slick CGIs. Peregrine Mears architects in Barnstaple is ensuring the importance of art in architecture
The benefit of this subtlety is evident in a currently project, designing an important and sensitive edge of village scheme, with 52 new homes proposed. Lead architect Richard Ellis is working closely with Design Manager Max Pountney, who explain their approach.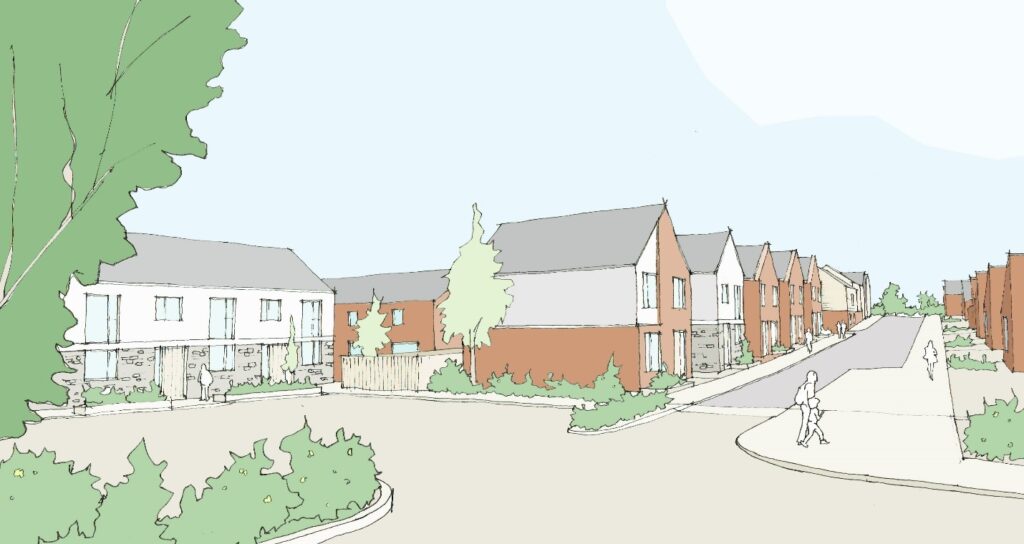 "Extensive initial research and analysis informed our concept. Here essentially, we've proposed that buildings which are closer to the village will be a contemporary response to the existing cottages and bungalows, in terms of scale, materiality and density. Moving northwest from the village, the grain becomes less dense, with a transition in materials and form, from the village vernacular, to one which is more rural / agricultural."
"Housing developments of this size are sensitive, especially in village and rural locations. Our challenge was to present our scheme in an appropriately inviting way, reflecting our sympathetic approach."
Richard and Max wanted to distinguish their considered approach from the conventional, by getting away from the ubiquitous computer generated images which can sometimes come across as a little harsh, somewhat regimented and finalised.
Max explained "We opted to includes hand drawings, creating a much softer, playful, and humanized final image. The process started with a very basic 3D massing model. A useful starting point, where we experimented with different viewpoints, helping identify a position that incorporates enough to create a compositionally good image and translates sufficient visual information.
Next it's back to the drawing board; literally. Max drew over the basic 3D model's chosen viewpoints, with tracing paper and ink. With skill and patience, he added layers of detail by hand including fenestration, material textures and vegetation. This painstaking task is satisfying and enjoyable and so worthwhile. It's rare that computers aren't used in the industry nowadays; a refreshing change, to great effect.
"We import the scanned images into Photoshop, where we add colour, light and shade. Feedback received has reassuringly confirmed that our sketches help people relate to our designs, indicative of our personal investment and approach, more than entirely computer-generated images; the human touch is visible.
Every single building and its relationship with one another is carefully considered, demonstrating that housing developments don't have to be standard and generic. Our laser-like focus is to design homes and schemes that people will love and that generations will enjoy into the future.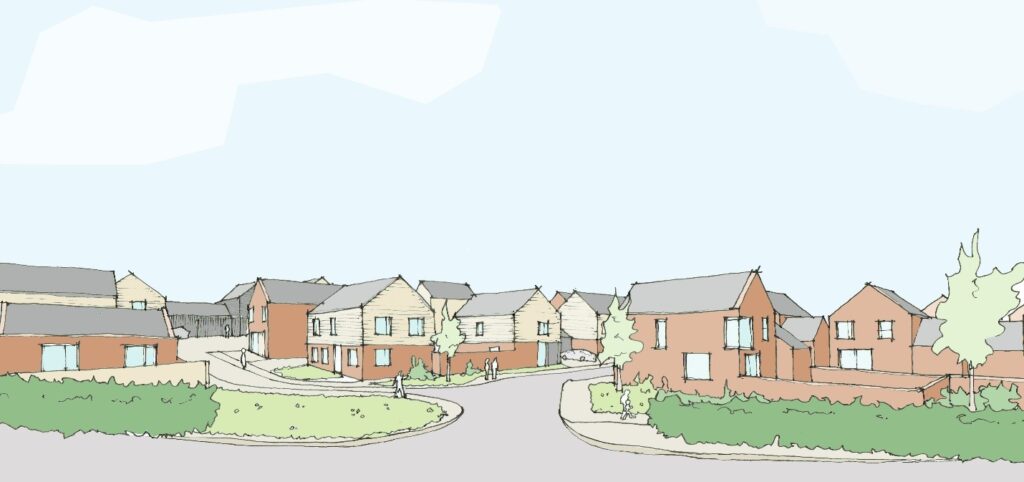 Devon architects I Peregrine Mears Architects 01271 377776