Unique & Distinctive I Match Property Barnstaple
As Barnstaple architects we love unique and distinctive homes; we've been instrumental in supporting many clients create their own unique and distinctive homes in North Devon and throughout the west country.
An increasingly popular option is to build your own unique home; the first question is very often "Where?" This is where two Barnstaple based companies combine their professional services, to find and secure a development site and make that self-build dream a reality.
Nic Chbat Director of Match Property uses his expert local knowledge through their Property Finder service. "Locating and negotiating the right site is fundamental. It's what we do" says Nic. "However, what can be built, how to maximize the opportunity and how to approach the question of planning permission is critical in assessing a site's suitability and viability. This is when we contact Peregrine Mears Architects for advice. It makes a huge difference."
"We welcome early involvement" says Perry Mears of Barnstaple architects, Peregrine Mears Architects. "We look to help our clients as much as we can at this early stage, aimming to reduce risk for our clients and an early conversation, even before purchase, is essential. All types of fundamentals can be considered, so buyers are informed, they know the risks they are taking or perhaps helping to negotiate a conditional purchase."
Sometimes the answer to the search can be closer that you think. We've helped some clients identify perhaps part of their garden for their next project. We're featured in the spring edition of Match Property's Unique & Distinctive Homes magazine, giving an insight into these projects.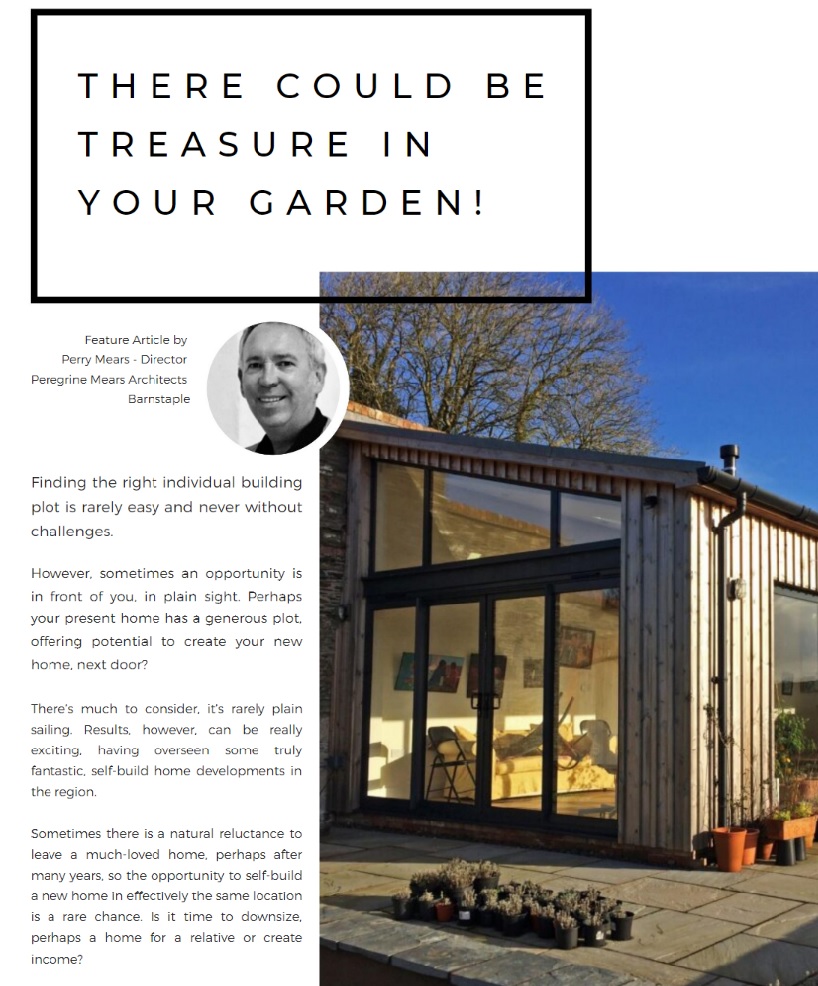 Unique & Distinctive Homes by Match Property Barnstaple
The latest edition of this quality magazine gives a fascinating insight into the prime property market in North Devon; an area which continues to develop its popularity and enviable reputation, nationally recognised for its fabulous sandy, surfing beaches and dramatic, rugged coastline, with the magnificent Exmoor National Park too.
Unique & Distinctive Homes by Match Property Barnstaple
So, if the route to your unique and distinctive home is to build one, then we'd love to talk with you. It's never too early to open the conversation – call 01271 377776 always in the strictest of confidence and without obligation.