Commercial Development Opportunity Hidden In Plain Sight
Commercial Development | The daily traffic flow (including thousands of holiday visitors to the region) who pass the well-known former Foxhunters Garage Nr West Down on the busy A361 at West Down, have grown used to seeing an increasingly sad eyesore. A great, high-profile location, crying out for redevelopment.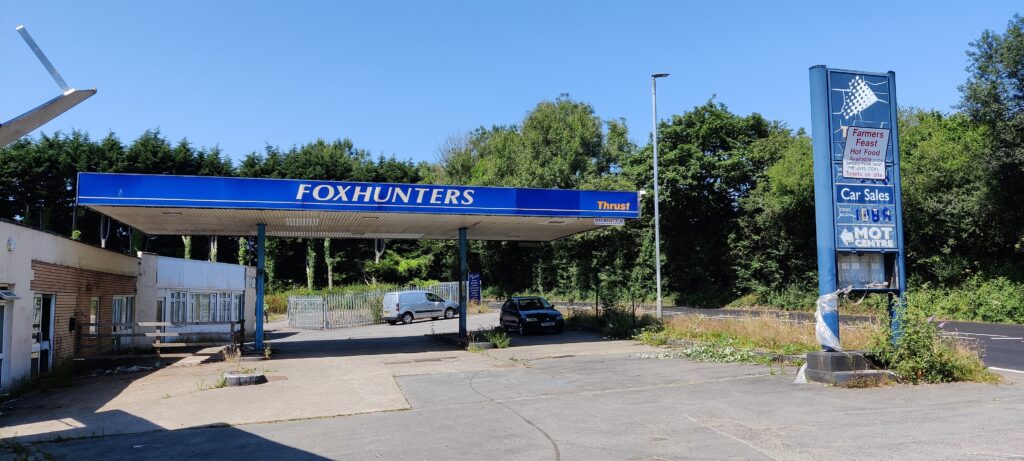 North Devon architect Perry Mears of Peregrine Mears Architects explained "This is a fantastic commercial development site, in a busy location, but for many the significant costs associated with remediation works to underground petrol storage tanks have limited the appeal. Amazingly it's been lying idle for over 5 years, since it closed as a garage / petrol filling station."
However, step forward an enterprising local business to save the day. The new owners have seen the potential and will bring this key site back to life! Stowford Leisure, who also operate in South Wales, is a large, new and used caravan and motorhome dealership, previously based nearby at Stowford Meadows.
"This is a really exciting project, where a fresh eye has spotted an excellent opportunity" explained James Goodwin of the architects. James continued "We've really enjoyed working up this scheme; the design will remove all the old garage buildings along the roadside, including the prominent canopy, whilst retaining the workshop at the rear. A purpose-designed new showroom & office building will be added which, unusually for commercial buildings of this kind, has been designed sensitively and with environmental concerns forming a key part of the design brief. Considerable thought has been given to the future use and to maximise efficiencies. The new building has been designed to generate its own electricity via Solar PV, which will power an air source heat pump. The main facade is south facing, allowing passive solar gain, with the glazing set back under a deep overhang, to avoid solar overheating. Externally the design uses timber cladding, which will soften the building's appearance and help it relate to the wooded surroundings, creating great shop front for Stowford Leisure."
With planning approval granted for commercial development by North Devon Council work is shortly due to start shortly, with completion due towards the end of 2022.
Professional team
Planning Partnership Ltd (Mike Kelly) – planning consultant & agent www.planningpartnership.org
JRC – Flood Risk & Drainage engineers (Tim Rivett) www.jrcconsulting.co.uk
Geoffrey Everett-Brown – main contractor
Peregrine Mears Architects