"Our clients' words `demolish and replace`! Look at the site, not the existing property' with an inspiring project brief are precisely why I chose to be an architect" says Max Pountney, Design Manager with Peregrine Mears Architects, as he passionately talks through one of his latest commissions, in fabulous Cornwall.
Our clients presented us with a dark, damp and cold bungalow on a great site, the task to demolish and replace with a new energy efficient home, maximising the views. How inspiring! "Initial stages are approached with enthusiastic, open-minded creativity. These discussions are always exciting, for clients and us. The site visit and initial research allows us to assess opportunities and challenges. Neither are always obvious, nor are the solutions. In theory anything can be done apart from moving the site; here the location is the real attraction. By building in a slightly different location than the siting of the current building, will maximise the south facing aspect, sun path, great rural views, creating a fabulous setting and garden."
"Delicate interpretation of our clients wishes, local planning authority requirements and considerations, together with building regulations and construction practicalities all influence our approach, as does the indicative financial budget."
"Our aim was to break up the mass of the building into a series of smaller volumes, to reduce visual impact. We have divided the main house into 3 volumes. One to the ground floor, to appear as a solid base set into the landscape. This will accommodate the garage, workshop, gym and entrance hall. Two volumes make up the first floor. These are angled to focus on the views. The smaller west volume will house the main bedroom and office, angled to frame the view to the southwest. The east volume will house the kitchen (south-east facing), dining, utility and spare bedroom / hobby room. The split between the two volumes creates a broken floor plan, with the living and dining spaces divided by the fireplace. The volume split also creates an elevated south facing terrace that the dining space can open out on to it."
External visuals and space planning begin to evolve.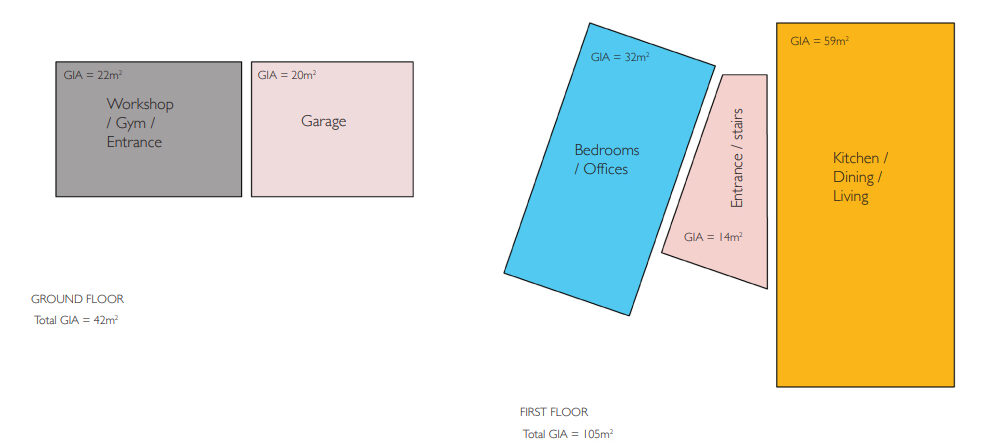 "The exterior finish will reflect the agricultural and rural vernacular of timber cladding, stone and slate. These materials detailed in a modern way with the addition of large expanses of glass will result in an elegant and contemporary play on the traditional surrounding rural buildings" explained Max. "The final part of the dream is a cabin, planned within the site to create a fabulous home office: the icing on the cake."
The process continues. When the layout and designs are finalised for our clients' sign-off, we'll then be ready to submit an application to the local planning authority. Peregrine Mears Architects provide full architectural services, so once approval is received we will develop the design in readiness for work to start.
Peregrine Mears Architects