Development and Diversification for Your Inland Marina – What Can you Do?  
By far the hardest challenge in creating a successful inland marina based leisure enterprise is building the marina basin itself. So whether you did that yourself or have purchased an existing marina, the hardest part has been done!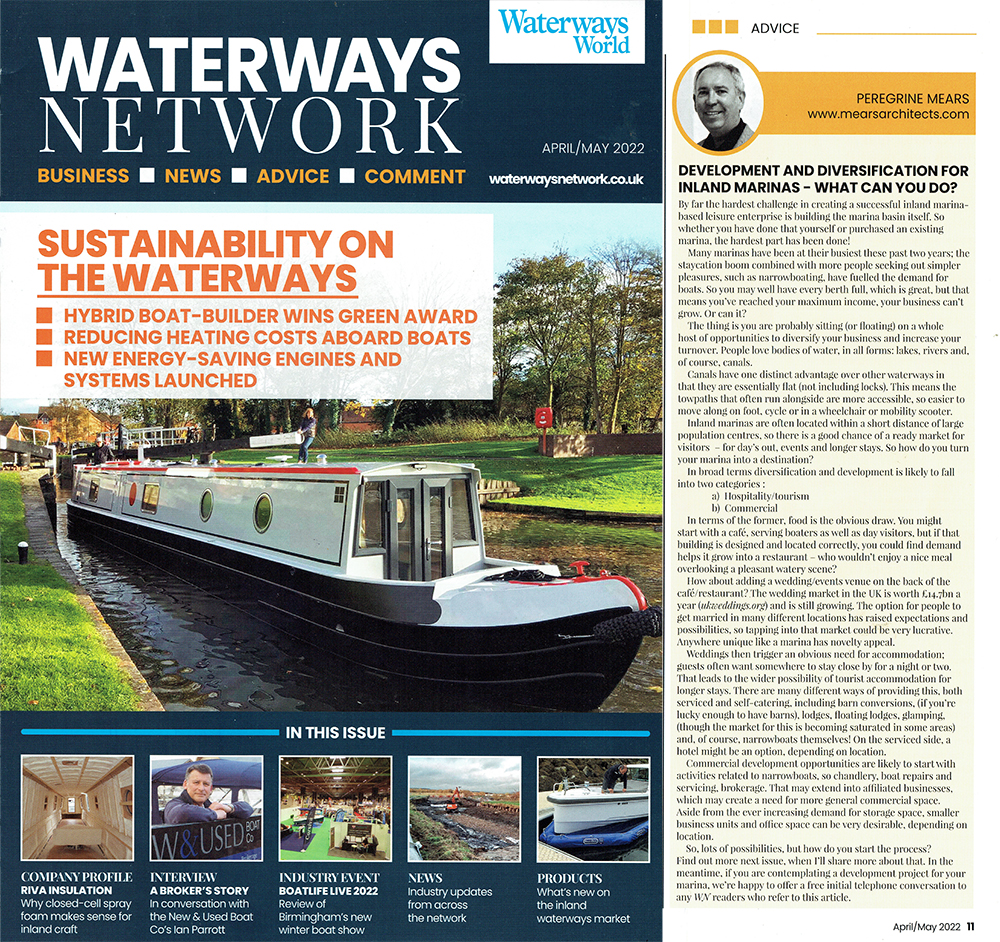 Many marinas have been at their busiest these past two years; the staycation boom combined with more people seeking out simpler pleasures such as narrow boating have fuelled the demand for boats. So you may well have every berth full, which is great, but that means you've reached your maximum income, your business can't grow. Or can it…..?
The thing is you are probably sitting, (or floating), on a whole host of opportunities to diversify your business and increase your turnover. People love bodies of water, in all forms, lakes, rivers and of course canals.
Canals have one distinct advantage of other waterways in that they are essentially flat, (not including locks). That means the towpaths that often run alongside are more accessible, so easier to move along on foot, cycle or in a wheelchair or mobility scooter.
Inland marinas are often located within a short distance of large population centres, so there is a good chance of a ready market for visitors, both day's out, events and longer stays. So how do you turn your marina in a destination?
In broad terms diversification and development is likely to fall into two categories :
Hospitality / Tourism
Commercial
In terms of the former, food is the obvious draw. You might start with a cafe, serving boaters as well as day visitors, but if that building is designed and located correctly, you could find demand helps it grow into a restaurant – who wouldn't enjoy a nice meal overlooking a pleasant watery scene?
How about adding a wedding / events venue on the back of the café / restaurant? The wedding market in the UK is worth £14.7bn a year (ukweddings.org) and is still growing. The option for people to get married in many different locations has raised expectations and possibilities so tapping into that market could be very lucrative. Anywhere unique like a marina has novelty appeal.
Weddings then trigger an obvious need for accommodation; guests often want somewhere to stay close by for a night or two. That leads on to the wider possibility of tourist accommodation for longer stays. There are many different ways of providing this, both serviced and self-catering, including barn conversions, (if you're lukcy enough to have barns), lodges, floating lodges, glamping, (though the market for this is becoming saturated in some areas) and of course narrow boats themselves! On the serviced side, an hotel might be an option depending on location.
Commercial development opportunities for an inland marina are likely to start with activities related to narrowboats so chandlery, boat repairs and servicing, brokerage. That may extend into affiliated businesses, which may create a need for more general commercial space. Aside from the ever increasing demand for storage space, smaller business units and office space can be very desirable depending on location.
So, lots of possibilities for your inland marina, but how do you start the process? Find out more next month, when I'll share more about that. In the meantime, if you are contemplating a development project for your marina, we're happy to offer a free initial telephone conversation to any WN readers who mention this article.
Peregrine Mears
Waterways Network April / May 2022
www.mearsarchitects.com