Self-Build. How will You build It?
When approaching the building of your new home self-build architect Devon & Cornwall, the chosen method of construction is fundamental. You may not know which method you wish to use when approaching your self-build project, but during conversations with your architect, the right method can be determined. Your architect will approach this decision which will depend on many factors:
Are you planning on doing any of the physical work yourself? If so do you have particular expertise?
What about programme – do you want a quick build at a higher cost or a slower build at a lower cost? What is the lead in time for a particular method?
Does the site lend itself to or prohibit a particular approach?
How available are the materials and labour for each method?
How do you want the building to perform? Do you have aspirations for particular energy efficiency standards?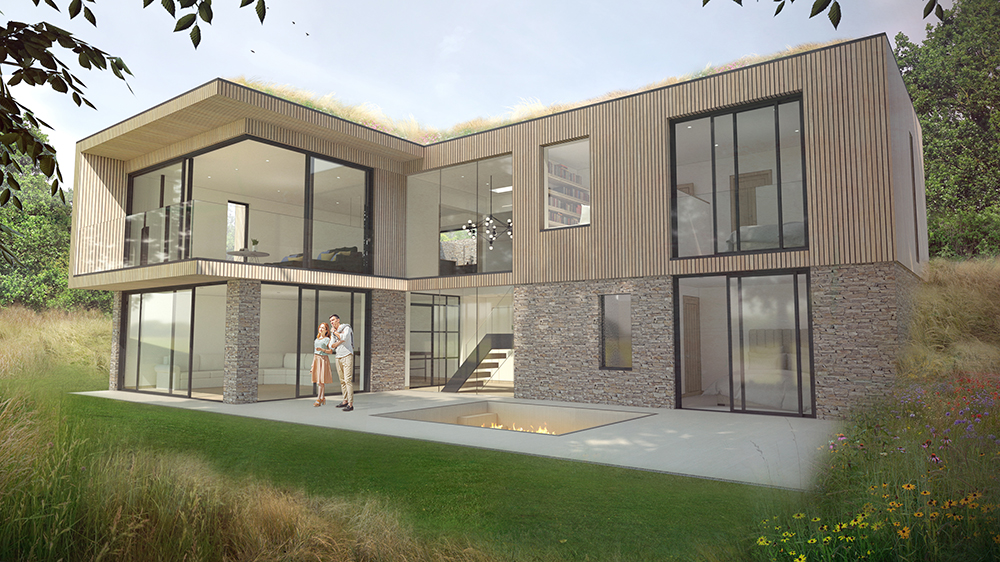 North Devon architects Peregrine Mears Architects design and oversee a variety of construction methods and are experienced self-build architect Devon & Cornwall. We welcome the opportunity to discuss a new project, in confidence and without obligation. Tell us what you have in mind, we love talking property.
Here we walk through a few options to consider….,
Traditional brick and block cavity wall
The use of traditional brick and block still forms the most common approach for residential building projects, being the choice for 70% of new homes in the UK.
Offering flexibility and a long established technique, houses formed by brick and block construction have a cavity between the external and internal leaves, tied with wall ties and partially filled with insulation. The cavity primarily provides a barrier against driving rain, something we know all about in the south west!
Whilst a slower building method, brick and block cavity walls offer the opportunity to work at your own pace, with perhaps more flexibility for modifications due to the small size of components. Soundproofing is generally good with this method of construction due to the high density of materials used. Bricks are a self-finished material and sometimes blocks ('fairfaced') can also be self-finished.
Airtightness is a significant consideration in the building on a new home and the construction method is key and part of an overall approach. Cavity walls require a secondary barrier in the form of taped & jointed plasterboard or parge coats of special plaster. Modern building methods offer solutions including advances is the quality of membranes and tapes, improving efficiencies.
Whilst the financing of self-build projects is maturing all the time, banks and self-build mortgage providers like this traditional approach which gives a known outcome. More information is available from Mason Advisory Council
Timber Frame
Fundamentally a totally different approach, timber frames offer a generally quicker building method, especially if the superstructure is prefabricated offsite, then erected as a series of panels. The impact when it arrives on site is impressive – the frame for a modest house can go up in week, sometimes less if whole panels are installed!
But this method of construction can also be 'stick built' from individual components on site. Once the frame is up, work can continue externally and internally to speed up the build.
Timber frame construction offers high levels of thermal performance as the voids between the timber studs are filled with insulation. A sheathing panel of plywood or OSB provides rigidity and a surface to which exterior finishes can be fixed. A vapour barrier is essential to prevent moisture from within the building entering the structure and causing rot. A layer of plasterboard behind a provides the internal lining.
SIPS, (Structurally Insulated Panels), are a more refined version of timber frame construction and are manufactured in a factory which gives precision and greater quality control. Timber frame and SIPS offer design flexibility in terms of external cladding options.
Green Oak
Green Oak, somewhat of a self-build speciality, can deliver spectacular results, offering flexibility of internal layout as the frame carries the structural load, meaning wall panels are typically non-load bearing. This easily accommodates open plan layouts. Material costs can be significant and the work time-consuming but oak frames have a long lifespan, (evidenced by the thousands of medieval buildings still standing). The Structural Timber Association provides a wealth of information and guidance.
Insulated Concrete Formwork (ICF)
Another fast construction method, ICF is growing in popularity in the UK, notably within the self-build sector. Typically it will involve hollow units of insulation with concrete poured in between. The insulation acts as permanent formwork with great insulation and thermal values as a result. Once set, the concrete provides structural support.
Material costs are generally higher than traditional cavity walling but that is compensated for by reduced labour costs, and speed of construction. Depending on the exact method / manufacturer, a specialist contractor may be required to achieve guarantees required by funding institutions and warranty providers.
One simpler method of ICF, Durisol, utilises hollow blocks made from recycled waste wood mixed with cement. This has several advantages including a relatively low level of skill required to lay and cut the blocks which are dry stacked, (no cement is needed in the joints), which allows a more hands on approach from self-builders. The insulation is pre-fitted and the voids filled with concrete. ICF achieves a higher compressive strength than traditional cavity walling. For these reasons it is a great choice for a Passivhaus project. The Insulated Concrete Formwork Association has lots of useful information.
Natural Build Materials
A choice for clients perhaps with a particular vision, often driven by sustainable and eco-friendly values. Materials include hempcrete, straw bales, rammed earth traditional cob and hollow clay blocks. Whilst still something of a niche market, numbers of self-builders embarking on these alternative projects are increasing, often due to the organic, healthy nature of materials which can significantly improve internal environmental conditions. The RIBA has some suggestions – RIBA
Solid Timber Construction
Log homes have been popular in Canada and Scandinavia for many years and are an option for your self-build project in Devon & Cornwall. A specialist approach which may increase costs over more traditional UK construction methods, the self-build client will be reliant on specialist expertise. The logs are usually the internal and external finish so you have to like lots of wood, but these homes offer something genuinely different.
CLT (Cross Laminated Timber), offers a more commercial variation of solid timber construction which like timber frame, can be used with a variety of internal and external finishes. Wall, floor and roof panels are made from layers of laminated timber. Aside from advantages of speed of construction shared with other timber methods, CLT offers larger spans and has been used for high rise buildings, some in the UK. The Structural Timber Association has more to say on the subject here: Structural Timber Association
Self-build projects are incredibly important and inspiring for our clients, which we fully recognise and share. These projects offer unique design and architectural opportunities. To find out which method of construction is right for you and your project, talk to us about your new home dreams and plans. Contact Peregrine Mears Architects, self-build architect Devon & Cornwall for your new home projects anywhere in the west country or further afield. We'd love to discuss your new project. 01271 377 776
Peregrine Mears Architects
Barnstaple Exeter Truro