Budgeting is the key to success
An architect will managing your budgeting
Enthusiasm and excitement will be strong, driving your project to build a new individual dream home. However, it is essential that this does not distract your focus and respect for your finances. A budgeting must be based on realistic costs, not guesses or comments from well-meaning friends. Construction costs do change; errors or omissions can prove costly, and you will be responsible for any overspend. Once the budget is agreed, it is essential to manage the costs. Variations here and extra costs there may be affordable in isolation but can accumulate. We've all heard the horror stories, don't let yours be another one.
The team at Peregrine Mears Architects team works with clients during the planning, designing, budgeting and building processes. Having a RIBA Chartered Architect as part of your team is a sound and reassuring investment, especially those with little or limited experience. Assess the risks.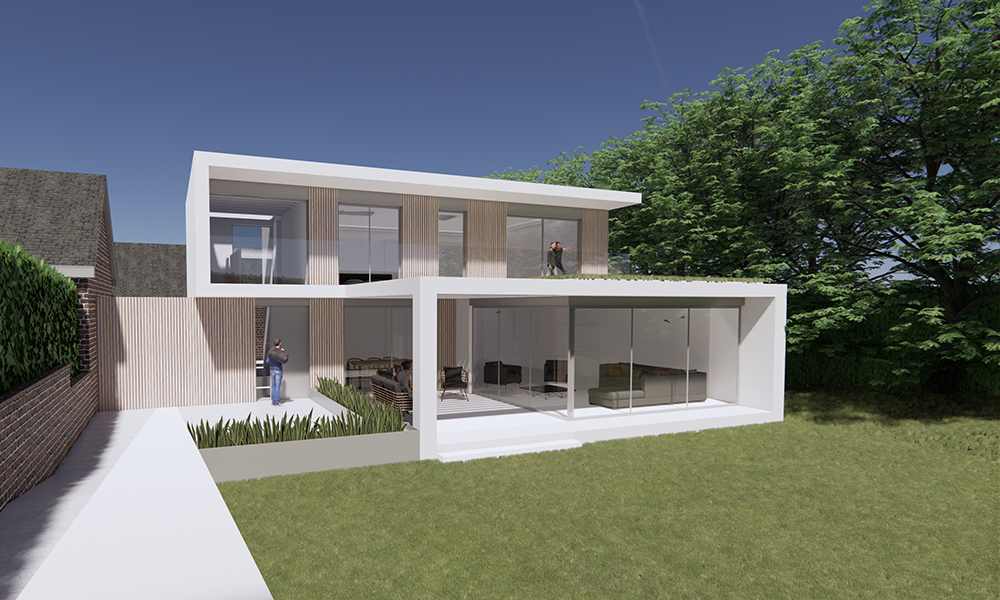 Manage expectations with clarity
Being realistic is essential, keep your feet on the ground. Being clear will improve the chances of accurate budgeting. We will offer thoughts and ideas, discussing options, highlighting any potential cost impact. An essential part of the process, to ensure that your plan is deliverable and affordable. Be clear in your brief if your budget is absolute or aspirational? Do you have a fixed pot of money and no more or do you want to develop a design, find out what that will cost to build and decide if you need to amend your brief?
Early cost estimates
Once initial sketch proposals are ready it's a good idea to get an independent cost estimate from a Quantity Surveyor. That will be based on data from recent similar projects and should be broken down into different elements / trades. If this estimate is higher than your budget, your Architect will suggest ways to reduce the costs. Sometimes that means less space, sometimes choosing more cost effective finishes.
To tender or negotiate?

Knowledge and experience is essential in any construction project. The Peregrine Mears Architects' team know how to approach this complex process; contractors reputation and experience are important; talk is cheap. The quality of contractors should be thoroughly researched, there is a lot at stake. Personal and professional recommendations are invaluable, as is the right approach.
For larger or more complex projects that usually but seeking competitive tenders from a number of contractors. The best way to obtaining competitive and accurate quotes is by providing detailed technical design information – the more specific your requirements are described and drawn, the keener and more certain the price will be. Skimping on design information is false economy; what you appear to save on fees you will loose on site with claims for extras because of a lack of information. So get it right before you start the build. That way you can have the most confidence of completing your project for a fixed sum.
For some projects it can pay to negotiate with a single contractor i.e. to appoint a contractor early in the process and get their input during the technical design stage. Contractors will have live pricing information on materials and labour form other projects and can also suggest improvements to processes to reduce costs.
Plan a contingency budget
It is sensible to allow a contingency in any build budgeting and essential for works to existing buildings which often throw up unforeseen challenges. The construction of any building is complex, especially a one-off individual property. Making an allowance of say 10% for unforeseen costs gives flexibility and reassurance, even though it may not actually be spent.
Painless financial management
Don't underestimate the financial management of your building project. The figures are always significant. Sound financial planning will increase the chances of success and your eventual satisfaction. During construction and Architect can assess contractors claims for payment and certify those, so you don't pay more than you need to. Having a trained professional look out for your financial interests will definitely allow you to sleep a little easier!
We love to talk property!
Peregrine Mears Architects approach is professional, reliable and transparent, proven over many years. If you are considering any building project why not contact us to discuss, always in confidence and without obligation? Tell us your plans and ask how we can help. We can tailor our services to suit you; there is nothing standard about our approach.
Peregrine Mears Architects