Planning Permission for house on the coast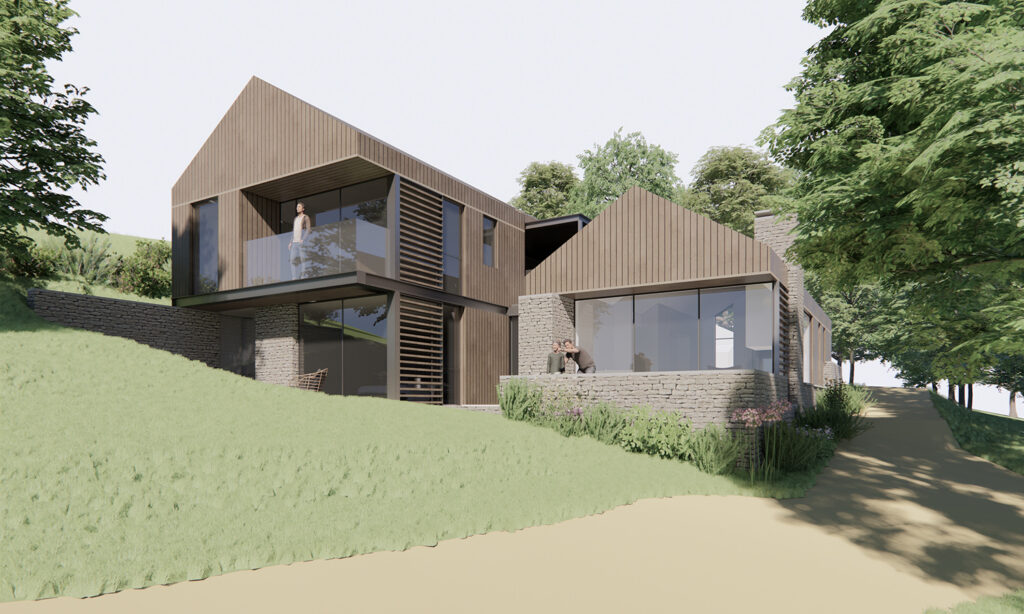 We're pleased to get September off to a good start with a full planning permission for a new house on the coast, replacing an obsolete dwelling near the sea. The project will see a a dilapidated bungalow replaced by new and larger property which will perform much better in terms of energy use. Moreover, it will make much better use of the site and the fabulous seaward views towards Lundy Island.
We successfully negotiated the planning hurdles raised by such a project – the site is outside of any settlement and is within the AONB and thus a sensitive setting. We were able to demonstrate that the building, although larger than the original dwelling, will be of a much high design quality. By blending traditional forms and vernacular materials with a contemporary flair, we have developed a design that responds to the characteristics of the site and our client's brief. A subtle interplay of timber and stone, glass and slate. With features such as a stone chimney, covered balcony, roof terrace and dining terrace, the house is a carefully considered composition
The house is arranged as two volumes which run along the contour lines of the hillside. The lower volume is a kitchen / dining / living space whilst the upper volume contains bedrooms and bathrooms. An entrance space links the two and brings visitors from a parking area at the rear, past a courtyard and then into the house, where the wonderful views are revealed.
The change in height / stepping of the two volumes responds to the change in level and softens the visual appearance from outside the site. At the same time it allows the ceilings in both the living block and the first floor of the bedroom block to be vaulted. The planning permission for a new house on the coast is for an individually designed comfortable home with different aspects which we hope will delight our clients for years to come.
Peregrine Mears Architects
Barnstaple Exeter Truro
01271 377 776