Happy clients give architects a nice surprise!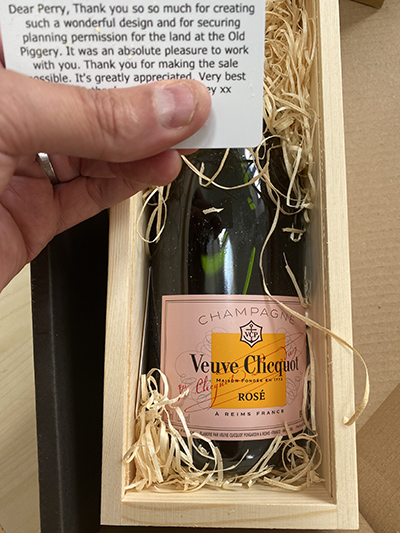 We all like to feel appreciated for what we do in our working lives and a recent nice surprise from happy clients certainly was appreciated by the Peregrine Mears Architects team. Aside from the satisfaction of a job well done, it's always nice to get a genuine thank you from a satisfied client. So we were pleasantly surprised to receive a posh package, with a wooden box inside, which revealed a lovely bottle of champagne and a heartfelt message from our clients. The feeling of a job well done underpins our approach in everything we do.
It follows our gaining planning permission for the conversion of a redundant rural building in Devon. To the untrained eye it may not have looked like a promising candidate – a plain blockwork box with a shallow pitched roof; this is the skill of seeing potential and through expertise and experience in careful design and planning great results can be achieved. But we could see the potential. Fortunately the Local Planning Authority bought into our approach, which followed research and quality presentation and gave what might have been a challenging project in planning terms, full planning approval. That turned an unused structure into a valuable piece of real estate.
The design we developed will allow the building to become a comfortable and spacious family home, enjoying a south facing aspect and glimpses of Dartmoor! Creating a successful design and gaining planning permission was satisfying but this unexpected show of appreciation through a nice surprise from happy clients has put a smile on our faces today!
The first step is to speak to us, always in confidence and without obligation. The results can be very exciting and rewarding. Talk to us now.
Perry Mears Architects
Barnstaple. Exeter. Truro
01271 377 776