New Bovey Tracey Community Centre
We're delighted to announce the completion of the Riverside Community Centre in Bovey Tracey. This is the result of over 3 years work from us, since winning an open competitive interview early in 2017. That involved working closely with the Town Council and local community to ensure a varied range of views were considered.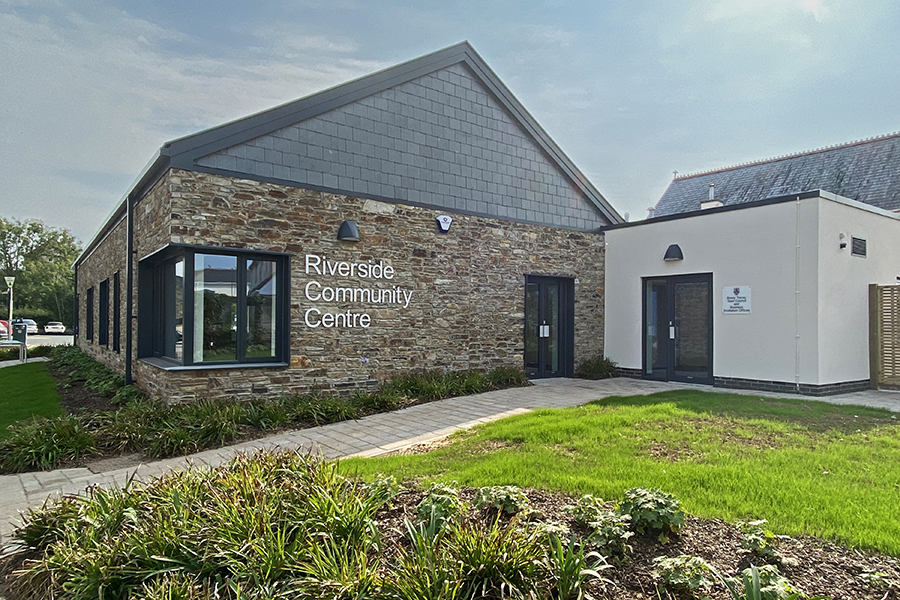 The Bovey Tracey Community Centre sits at the southern approach to the centre of Bovey Tracey close to the Devon Guild of Craftsmen and the town's conservation area. Those heritage aspects influenced the choice of materials and form, as did the budget.

The building contains different uses – a multi-purpose hall which is a public library during the daytime but then after all the moveable bookshelves are put away, becomes a community hall in the evenings and weekends. So a space for weddings, events, cinema, theatre and the like. One end can be partitioned of to create a meeting room, which will be used for Bovey Tracey Town Council as well as local community groups.

The main space and foyer also serves as the new Tourist Information Centre for Bovey Tracey. In addition the building provides new offices for the Town Council and 4 business incubation offices along with public toilets.
The building is due to open in October once the library furniture is installed. So residents and visitors to Bovey Tracey will have a brand new facility from then onwards!
The project team consisted of the following:

Client: Bovey Tracey Town Council
Architect & Lead Consultants: Peregrine Mears Architects Ltd
Quantity Surveyor: Randall Simmonds
Services Engineer: Smith Consult
Landscape Architect: Rathbone Partnership
Main Contractor: Devon Contractors