A nice surprise from happy clients for Devon Architects!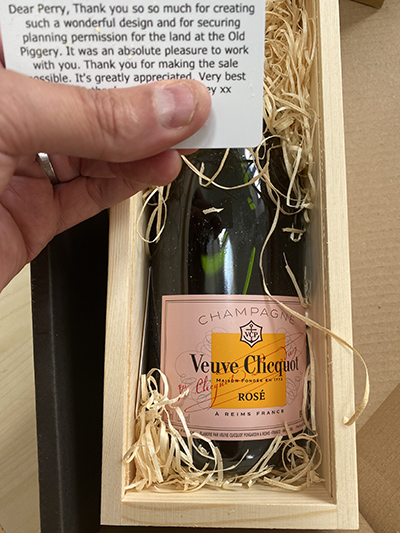 We all like to feel appreciated for what we do in our working lives. Aside from the satisfaction of a job well done, its always nice to get a genuine thank you from a satisfied client. So we were pleasantly surprised to receive a posh package today, with a wooden box inside, which revealed a lovely bottle of champagne and a heartfelt message from our clients!
It follows our gaining planning permission for the conversion of a redundant rural building in Devon. To the untrained eye it may not have looked like a promising candidate – a plain blockwork box with a shallow pitched roof. But we could see the potential. Fortunately the Local Planning Authority bought into our approach and gave what might have been a challenging project in planing terms, full planning approval. That turned an unused structure into a valuable piece of real estate.
The design we developed will allow the building to become a comfortable and spacious family home with a south facing aspect and glimpses of Dartmoor! Creating a successful design and gaining planning permission was satisfying but this unexpected show of appreciation has put a smile on our faces today!